Athens, Greece
OPA! We went on a Greek vacay in 2018 I'm here to give you a brief run down of our recommendations!
We made the mistake of booking through Great Value Vacations and some pieces of the trip were a total cluster f*ck because of it - you have been warned lol. Luckily Ross and I were able to pay out of pocket to fix the things we disliked about the vacay (more details to come!).
Athens, Greece
Athens at the end of August/September? #isssssshot. So bring swimmies and clothes that don't show sweat because you'll be getting nice and toasty and if you're out and about during the day!
Athens Marriott Hotel
In Athens, we stayed at the Athens Marriott Hotel which had just been renovated. It was ok (standard hotel - nothing great about it). We'll stay at the Hotel Grande Bretagne in Athens next go round - it's right in the heart of Athens and is a spectacular.
Sounio Cape - Tour (Booked through Trip Advisor)
The Sounio Cape Tour had a car pick us up at our hotel and then took us to the Sounio Cape to see the Temple of Poseidon at sunset.
Our car driver was named Dimitri. Dimitri is what I would like to call - an eager beaver. He was a V, & let me repeat a V, chatty little Greek man whose strong suit was not picking up on social cues lol.
We took the cape tour our first day in Athens - Ross and I were jet lagged - but we wanted to push through and start seeing the sites. Ross is a big napper even when he's not jet lagged - so as soon as Dimitri picked us up and started driving, Ross was out.
Now, Dimitri got concerned when he realized Ross was sleeping (like heaven forbid Dimitri didn't have an audience of two to talk to lol), so he insisted on stopping to get us coffee.
This was an incredibly nice gesture but a bear attack wouldn't wake Ross up when he's tired.
The coffee Dimitri stopped to get us was GOOD - I will give Dimitri that - but we added about 15 minutes onto a 40 minute ride for the caffeine detour.
Ross drank his coffee & went RIGHT back to sleep. I was left awake with chatty kathy lol.
After 40 long minutes, we FINALLY reached the temple #thankbabyzeus … & #babyposeidon
The Temple was breathtaking and worth the trip (even with a driver who wouldn't stfu lol).
We explored the temple which was constructed in 444–440 BC and made entirely out of white marble. The temple was built to honor Poseidon, the Greek god of the sea.
(Outfit - Apricot Lane)
After we thoroughly checked out the temple, we watched the sunset.
After the sun went down, it was time to get back to our hotel. On the ride home, Ross immediately goes back to sleep but Dimitri REALLY wants to show us the night view of Athens… I REALLY wanted to get dinner and go to bed lol. I had to tell Dimitri "No" on the night tour multiple times before he conceded to take us back to the hotel (as the tour dictates mind you).
Dimitri then starts pouting in the front seat & starts talking again:
"I'm SAD."
I respond:
"What??"
"I'M SAD."
Like is this actually happening lol lol.
"Dimitri, why are you sad?"
"Because. You're not having FUN."
…
I can't lol.
Like sir, you are a car service that is supposed to take us to and from the Cape. Not to get coffee. Not to see Athens at night. Not to demand that your passengers have fun. To the Cape and BACK.
I smiled (tried not to laugh) and replied:
"OH NO Dimitri- we're having a blast."
"Now take us back to the hotel."
& thank the lawd, that he did.
Would I recommend this tour? Yes. The temple & cape were beautiful.
Would I recommend this driver? Not unless you really, really, really want to talk to someone lol.
Koutouki Kalypso, Paleo Faliro - Dinner
Authentic Greek food that is delicious & #cheapAF? Koutouki Kalypso has you covered.
This cutie patootie spot was poppin and there were tourists and locals alike so we knew it was going to be a good meal.
We got the bread, tzatziki with olive oil, grilled veggies (zucchini, eggplant, and yellow peppers), grilled hot peppers, cheese rolls, lamb, two things of red wine, and complimentary donuts drizzled in chocolate. #fatchingout like never before.
My fav? EVERYTHING dipped in that tzatziki sauce lol.
& obvi the donuts.
Ross and I ordered everything above (including TWO jugs of wine), and guess how much our tab was? €40 (which is $46 USD)!!!!!! HOW?! Not mad about it and we'd 100% go back. The food was amaze and the servers (who we're pretty sure were all family and owned the restaurant) were so friendly and attentive. This was a real authentic experience.
The Acropolis & The Acropolis Museum - Tour
You can't go to Athens without seeing the Acropolis and the Museum which holds much of the original Acropolis structure and it's artifacts. #history. We had this tour booked through the travel agency and we actually ended up wandering away from the tour group because it was so disorganized lol. Ross and I had a much better time when we veered off on our own!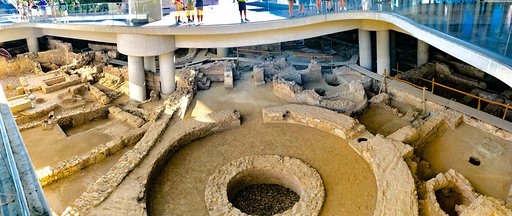 The Museum has a cafe inside where you can grab a bite to eat and admire a very close view of the Acropolis. They also have two lovely gift shops - I recommend the one on the first level and check out their silk scarves!
(Outfit - Tobi)
Aleria Restaurant - Dinner
There's a v good reason Aleria is one of the top restaurants in Athens - this was one of my favorite meals to date.
Now the ambiance of this restaurant had me from the get go - it's very New York-esque with eclectic interior decor and gorgeous back garden patio seating.
We requested to dine on the patio and our only qualm was as it got darker, bugs definitely came out to play - we wished we would have put on bug spray towards the end of our meal.
Regardless of Aleria's NYC vibes, their food is true to its' Greek and Mediterranean roots.
We started the meal with a Greek rosé and amuse-bouche #wellitisamusing
#ifyouknowthenyouknow
For appetizers, we had the crab(€18), scallops (€20), and pastitsio (€16) (a greek based pasta dish with oxtail and bechamel sauce with shiitake.
All three apps were divine and the crabs and scallops were plated beautifully
Aleria then has a cheese menu (#yasplease) and we tried the cow's milk balaki (€5) - a soft cheese with a rich taste - and goat milk manouri aeros cheese (€5) - a soft cheese with a sweet aftertaste. The goat cheese was my favorite while Ross preferred the cow cheese.
For entrees, Ross had the Roasted Lamb (€22) and I had the Risotto. Both were excellent!
The servers at Aleria were what I would call gradually attentive - they were slow paced but made sure we had everything we needed throughout the evening.
If you ever find yourselves in Athens, I hands down recommend Aleria as one of your fine dining experiences. The prices here were cheaper than what we're accustomed to for a fancy dinner in the US.
(Outfit - Nasty Gal)
Next we were off to Mykonos - stay tuned for the full review!