Macy's, Secret Santa
This past weekend, Macy's threw us a beautiful Secret Santa party and we cannot wait to share this event with you all!
The first thing you need for any Christmas party? Christmas decorations! Macy's has Christmas decor perfect for any Christmas party and we went for the Christmas Cheer tablescape for Secret Santa (and don't forget Macy's bake-ware for all your Christmas treats!):
These darling and delicious cupcakes were gifted by Smallcakes Cupcakery And Creamery (you can find a full blog post detailing this bakery under Lifestyle)!
Create your own Macy's Christmas Cheer Tablescape!
Macy's & Macy's Backstage are the perfect places to shop for Secret Santa, stocking stuffers, and all holiday must haves. While you can't find the Macy's Backstage gifts featured below online, there are three Macy's Backstage locations in CO (Littelton, Broomfield, & CO Springs). So if you see something you like below, head to one of the Backstage locations to find it or find similar products linked to Macy's here on the blog!
Each Secret Santa gift, gifted at our Macy's party was between $20 and $35!
We played Secret Santa, White Elephant style so we all drew numbers and started the game!
The rules were that you could either open a new gift, or steal one that was already opened - however an item can not be stolen more than twice!
1) Cristine went first and was gifted these adorable Holiday Lane White Winged Bulldog Ornaments, Created for Macy's! $13/ornament! These winged bad boys are SO stinking cute.
2) Kali was up next and picked out this Studio Mercantile Oversized Champagne Glass!
SO perfect for any champs lover and fits an entire champ bottle it it's flute! $20!
3) Wendy was up next and picked out a Jessica Simpson set that included a pom hat and matching scarf from Macy's Backstage - $20!
4) Kristina opted not to steal and opened up Kenneth Cole Reaction For Her perfume from Macy's Backstage - $30 - we love this scent of sparkling pink grapefruit with a sleek woody background!
5) Jen opened a new prezzie & picked out a Nicole Miller Faux Fur Rug from Macy's Backstage - $35 - multiple people immediately had their eyes on this fluffy piece!
6) Emily was up next and snagged the Nicole Miller Faux Fur Rug from Jen!
#STEAL1
Jen then decided to open a new gift!
She picked out a red Steve Madden wristlet from Macy's Backstage - $25!
7) I was up next and I had to do a quick steal on Cristine for the Holiday Lane White Winged Bulldog Ornaments - must have cuties for my tree!
#STEAL1
Cristine then went for a new present!
She opened a LOVE wall decal from Macy's Backstage - $20!
8) Treslyn was up next and picked out a new gift - a set of TMD Holdings Stemless Wine Glasses with the v appropriate wine-o words of wisdom:
"Working 9 to Wine" and "Friyay" - $20 for two sets of two!
9) Dana then swooped in for a second steal on the Nicole Miller Faux Fur Rug now making it "unstealable"!
#STEAL2 - the face when some someone steals your SS present lol
Em Bob was such a good sport - she then opted for a new prezzie.
She opened a gorgeous pair of gold plated Stella & Ruby, Victoria gold earrings from Macy's Backstage - on sale for $25 and normally $60!
Since Cristine went first, she then had a final chance to steal! She went for the Jessica Simpson scarf and hat set!
We then threw in a surprise, as the number 2 person never gets a chance to steal, and gave Kali an additional present from Macy's Backstage! A Retrology cardigan, on sale for $25, normally $62!
A HUGE THANK YOU to Macy's for an epic night of gifting, laughing and putting us in full fledge holiday spirit.
#SANTAAAAAAAAAAAA #iknowhim
Happy holiday shopping babes - guaranteed you'll find that Christmas magic at Macy's!
Macy's Product Round Up:
Collaboration with Macy's <3 <3
Fab photographer who continues to impress: Andeck Photography
Cupcakes donated by Smallcakes Cupcakery and Creamery
After opening all the prezzies from Macy's, it was time to party and have a little fun with our photographer!
#STRUT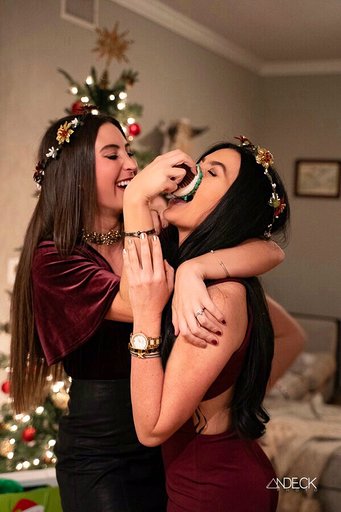 #BELIEVE & MERRY CHRISTMAS from Macy's and denv.her. !